Prep for trip to Cameroon for CBS graduations, June 2007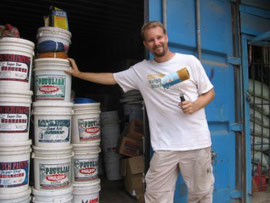 Hello everyone,
Here are a few more updates and prayer requests.
Travel to Cameroon:
Please pray for Eric as he travels to Cameroon.  He left on the 26th and will be gone for about two weeks.  He and Uzomah are meeting our Missions pastor from our Church in New York to attend the graduations of two of the Bible Schools there.  Eric is hoping this will be a time of learning for him as he gets to see these Bible Schools first hand.
Please pray for Cindy and the children as they will stay in Port Harcourt until Eric's return.  They will be working on finishing up their school work for this past year.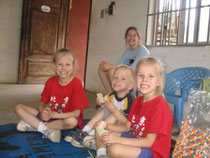 Apartment Update:
We are hoping to move into our new apartment soon after Eric's return from Cameroon.  The bore hole for water has been dug and the stand for the water tank is in.  They are working on the plumbing now.  There are a few other things that need to be completed before we can move in.  Some of these are making sure the electrical system and the plumbing are in proper working order, fixing cracks in the cement walls, and putting up extra bars on the doors for security.  We have had many people ask about our apartment, I will try to explain as best I can.  Here they call it a Bungalow, it is a two family house.  We will live in one side and the owners live in the other.  It has a cement fence with a metal gate that surrounds it.  The other question we have had is why is it taking so long to be able to move in?  When we first decided on this apartment we paid the first years rent and the owner was to do the renovations.  When they started the water tank they decided to put in a higher tower for the tank (to get better water pressure to the second floor, a good thing) but this would cost more money than they had thought.  So they needed us to give them the second years rent to complete the renovations.  We were having problems transferring money from our bank in New York to our bank here.  We did not have enough money left that we had brought with us, so we had to wait for the problem with the bank to get worked out.  We were down to about $100 when the money was finally transferred.  It was cut a little close for comfort, but God is never late!  He is in control.  So now the money is paid and the work is underway.  The strike is still going on, but things now seem to be moving at a normal pace.  A praise report on this note is that the day the money was transferred was the first day of the strike so the bank was closed.  They let Eric in anyway to get the money!!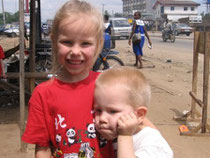 Visas:
When we came here, we thought that our visas would be good for a year, but they were not.  They were only good for a month.  When Eric comes back from Cameroon his visa will be extended for a little longer.  He has a muti entrant visa that is good until January, so whenever he leaves the country and comes back he gets a little longer to be here.  Cindy and the children just have a one time entrance visa.  Right now Uzomah has given their passports to someone to have the visas extended.  He is hoping they can make the visas long term so that we will not have to renew them often. Please pray that this is an easy process and that we will have favor with the visa officers.  Also please pray that Eric will not have any problems at the borders with his visas (Nigeria or Cameroon).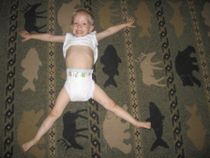 Thank You for Praying:
Thank you everyone for your prayers.  Here is an excerpt from an e-mail that we recently received from some friends that had asked for prayer.  "The Bible says, "Whatever you bind on earth will be bound in heaven, and whatever you loose on earth will be loosed in heaven" (Ma18:18). God gives us authority on earth. When we take that authority, God releases power to us from heaven. Because it is God's power and not ours, we become the vessel through which His power flows. When we pray, we bring that power to bear upon everything we are praying about, and we allow the power of God to work through our powerlessness. When we pray, we are humbling ourselves before God and saying, "I need Your presence and Your power, Lord.  I can't do this without You."   Thank you for taking that authority and releasing God's power from heaven on our behalf. 
Thankfully yours,
The Black Family