April 2009 - YWAMers Again!
Almost 14 years after doing our Youth with A Mission (YWAM) training, we are finally going to be full-time staff. After much prayer and consideration, we will join the YWAM-Nigeria team when we return to Nigeria in August. We discussed it thoroughly with the missions board of our church and they are giving full support of our decision as we remain under their leadership and guidance.
Youth with a Mission is one of the largest missionary organizations in the World.  It is inter-denominational with compliments coming from people and organizations such as Bill Bright, Billy Graham, Jack Hayford, Bill Hybels, Voice of the Martyrs, World Vision, and Wycliffe, just to name a few (read quotes here).  
To clarify, we are still missionaries being sent out from Smithtown Gospel Tabernacle and we will remain under their leadership.  For those who are sending tax-deductible financial support through checks or bank drafts,  there is no need for modifications.
Why the Change?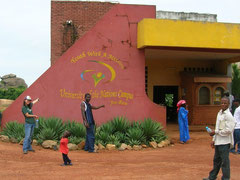 In some ways, there is no change.  Our vision from the beginning has been to disciple and train Nigerian Christians to lead their country beyond the numerous spiritual and practical challenges that they continue to face.  It is to develop leaders to become future pastors, evangelists, missionaries, and effective servants within their local churches.  This is all to the glory of God that new and old believers will lift up the name of Jesus, who He is, and what He has done.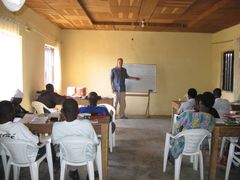 The vision of YWAM-Nigeria coincides with ours and there are many areas throughout Nigeria where our family can serve.  We will start out at the Port Harcourt campus as we undergo some basic orientation and pray about where specifically we can fit in.  Over the last 2 years, we have been heavily involved with their ministry by teaching at 4 of their 6 schools.  And we actually lived at the School in Port Harcourt for our initial 5 months in Nigeria.  Therefore we can somewhat expect what the transition will entail.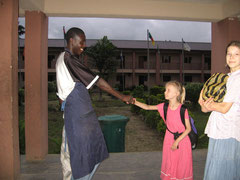 The Bible school in Aba continues to operate while we are in the USA.  Although life in Aba has had its challenges, we are still sad to leave the city and the friends we have made.  We will continue to support the Bible school by periodic teaching and leading outreaches as time permits.  And we pray to see more of these schools successfully planted in other areas of Nigeria and West Africa.
We are grateful for your partnership and look forward to spending many Spring and Summer days with you all before returning to Africa.
In Christ,
Eric, Cindy, Hannah, Jillian, Emily, Elijah, and Caleb