Celebrating 4 Years of Ministry in Nigeria!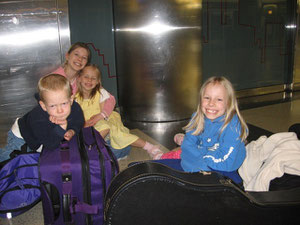 Four Years In Nigeria!!! It was just 4 years ago that we meticulously weighed our 12 bags and shed many tears as we said farewell to all of our dear friends in the US. It has been a strenuous adjustment to raising a family in Nigeria and learning to minister in a new culture. But we can look back and praise God for every moment.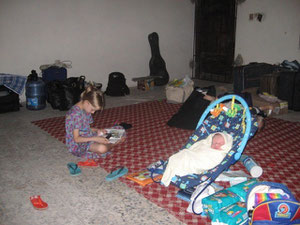 SBS 1 is Over
Eric recently finished the first trimester of the School of Biblical Studies (SBS). It was a tedious journey, but he made it. For now, he will not attend SBS 2 or 3.During the 9 month school, each student reads every book of the Bible at least 5 times. They outline each book, give a title for each paragraph, and give interpretation of each paragraph from the perspective of the original audience. Eric was surprised at the intensity of the school and has definitely accomplished a major task. In 12 weeks he completed approximately 400 pages of reports on the New Testament and scored 89% overall. That is why our newsletters have been scarce this year.
School of Evangelism, Etc.
Now Eric & Cindy are preparing to staff the School of Evangelism which was originally scheduled for May 8, but has been postponed until June 5. So we have a few extra weeks to prepare for Cindy's trip to the USA and for the short term team which is coming from Long Island in early July. Eric will be staying in Nigeria with 4 children while Cindy goes to NY with Naomi and Jillian. Right now, Eric is receiving the crash course of homeschooling the kids so he can effectively take over the role while Cindy is in the States for 4 weeks. He is also back to various teaching in the DTS and at other local events outside of YWAM.
Short Term Trip From SGT
The short term team coming in July will likely spend their entire 2 weeks in northern Nigeria. There are many safe towns in the north that are not affected by some of the violence that occasionally erupts between the Muslims and Christians. It isn't fully decided exactly which of those places we will go. It was a very good report from all over Nigeria that the recent elections were the most peaceful ones since they gained independence in 1960. While there were several outbreaks of violence, almost all have been calmed down and things are back to normal. But we ask that you continue to pray for peace and progress as the new administration plans the next 4 years.