December 2010 Newsletter - The Year in Review
Happy New Year Everyone!
It has been a busy, challenging, and fun year for the Black family. Here is our year in review. Be sure to scroll to the bottom for lots more pictures from 2010.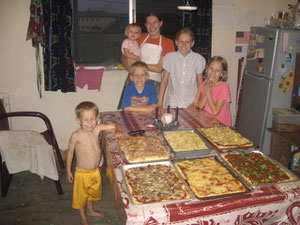 For the entire year, we have been working in the Discipleship Training School (DTS) with YWAM. When many were relaxing between schools, we were actively preparing for the next school. It is refreshing to have a real Christmas break before the New Year begins. One significant challenge we faced with the DTS is the lack of experienced staff. It was ambitious to commence 2010 with 4 DTS's on the schedule. But to top it off, there was only 1 among us who had ever staffed a DTS before. But God is faithful. In our weakness, He proves Himself to be strong! Many students have been transformed and have blossomed into future leaders.
A few other highlights for 2010:
Our friends and missionaries Mike & Ann DiSanza visited us in February for a couple of weeks as they ministered with 'Cops for Christ.' We had a wonderful time partnering with them in ministry. They plan to come back around September of 2011.

We celebrated YWAM's 50 year anniversary when Loren and Darlene Cunningham (YWAM founders) visited our campus in Port Harcourt.

We made some new YWAM friends around the globe, as they came to YWAM-Nigeria at various times during the year: Dan Baumann ('Imprisoned in Iran'), Brad Owens (YWAM, Kona), Maged (The King's Lodge in England), Debra Buenting (YWAM, Colorado Springs), the team from Pismo Beach California and 2 teams from Herrnhut Germany.

We rounded up the year with a multi-purpose trip to northern Nigeria. We stopped by the US Embassy in Abuja to apply for Naomi's passport. We traveled to Jos to visit the YWAM campus and other friends. Then we were off to Maiduguri (far northeast) to assist the DTS outreach and teach at the YWAM campus there. Lastly, we stopped in Gboko for an annual Mission's Convention. In a period of about 8 weeks, Eric drove over 5000 miles on Nigerian roads.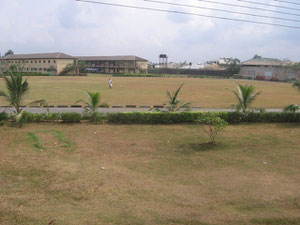 The July DTS, which we are leading, will be graduating next week. Then we'll take a break from staffing DTS. Eric will be a student in the first session of the School of Biblical Studies (3 months covering the New Testament). Then in May, we will help staff the School of Evangelism which is being pioneered in Nigeria. Eric & Cindy completed this school in 1995, but are not qualified to lead it until they have staffed it. Then around December of 2011, we will all fly home for a few months. It will be our first Christmas in the States since 2006.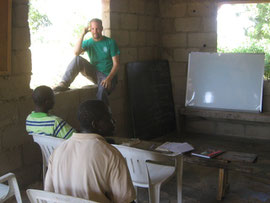 As we announced in our November newsletter our home Church on Long Island, Smithtown Gospel Tabernacle, will have a short-term trip to Nigeria sometime during 2011. A few people have already expressed interest in coming, but there is still room for more. If you are interested, please contact us or Pastor Rich at SGT.
Christmas & New Year Pictures (click on them to see full-size and captions)
Naomi Pictures from January to December
Pictures of the July DTS
Misc Pictures throughout 2010