December 28, 2007
Merry Christmas 3 days late and Happy New Year a few days early,
Christmas was wonderful at the Black Family apartment.  After returning from our trip to Northern Nigeria, we had a brief season of unhappiness and loneliness.  Sometimes we still feel like we're going through culture shock in Nigeria.  But the past week has been fairly smooth and overall we are happy to be here and know it is where we are supposed to be.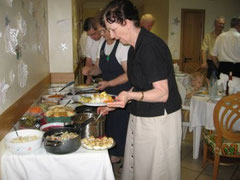 With the Bible School on break, Eric has been spending much more time at home and things have been mostly quiet with many people in Aba traveling out to their respective villages to celebrate the holidays.  We have been invited to Uzomah's village for New Years Day to celebrate the festivities with his extended family.  In the meantime, Eric has had time to start our website and Cindy is almost finished with our curtains.  You can see pictures on the "Pictures and Videos" page under "Our apartment in Aba."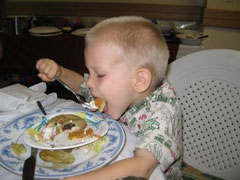 On Christmas Eve, we had dinner with some other Americans that we met here in Aba.  We had roasted chicken, mashed potatoes, stuffing, pumpkin pie, and much more good food.  We took over a fruit salad and left them some salsa, guacamole, and flour chips for later.  The children had a good time with some older people to get some "Grandma & Grandpa time" (although it wasn't quite as good as the real thing).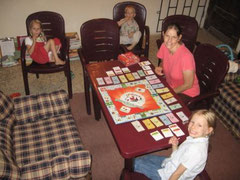 On Christmas, we stayed at home all day.  We opened presents, most of which were sent from all of you.  We had some yummy food.  We also talked to Grandma and Grandpa and our good friends, the Erdvigs, on the telephone.  We played games and visited in the evening.
With love,
Eric, Cindy, Hannah, Jillian, Emily, Elijah, and Caleb