February 2008 - Giving rice to the homeless in Aba & greeting our new house helper, Joy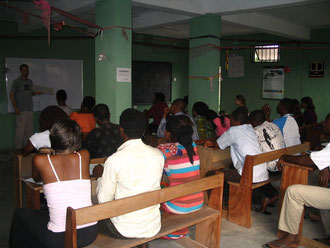 The harmattan is over now and the heat is beginning to set back in.  The kids are getting heat rashes again and the nights are getting harder to sleep through.  But it seems like we are keeping the rashes under control and slowly adjusting to the increasing heat.  It's going to get worse before it gets better.  But it also means that mango season is just around the corner!  Some blessings come with a price.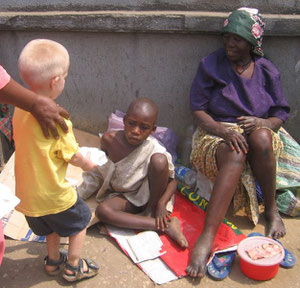 The school classes (Bible and Computer) are going well.  A couple of Saturdays ago, some of the students came together to cook and package meals of rice and we took them out to some local areas where you see people begging for food.  Obviously, it was good to ease the suffering of some hungry people.  But we have also been encouraged by the response of other spectator Christians who saw what we were doing.  We have been challenging them to go back to their Churches and do the same thing.  The local Christians will tell you that there is a lot of Christian talk but very little Christian fruit.  Please pray that the actions of our students will be contagious and the loving character of God will be projected.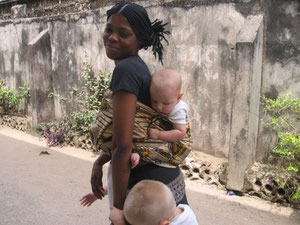 We are all happy now to have some house-help living with us. Last week, Joy moved into our house to help with cooking, laundry, and cleaning. In return, we will be paying for her school fees to finish her secondary school (high school) and giving her an allowance. She is 20 years old and had to quit school because her parents couldn't afford the fees. All we need is another boy and we will be like the Brady Bunch.
Prayer Points:
Continue to pray about our visa situation.

 

It is coming to a close, but not yet fully resolved.

Please pray for more students at CBS to help it become self-sustained.

Please pray that God will provide our upcoming rent for the CBS property.  We originally paid for 2 years and that time has almost expired. 

 

Continue to pray for the

Short Term Team coming in May

.

 

We have several people already express interest.

 

But there is still room for more.
Please pray for our new housing arrangement with Joy.

 
Here are some updated pages on our website: