February 2010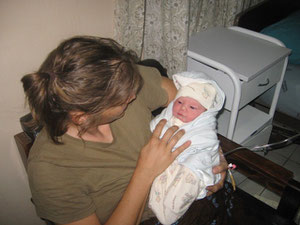 Welcome Naomi to the Black Family! Her name means delightful, pleasant, and beautiful and she similarly displays that character. That is what we were praying for. Thus far, she has been the most compliant baby out of the six. Her cries are quiet and infrequent. She is a good sleeper. She tolerates the Nigerian heat. And Cindy's post-delivery recovery has been relatively mild as well.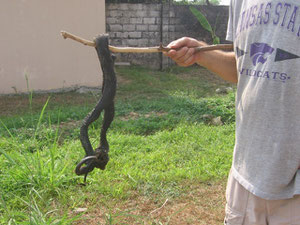 The other children are doing well. The YWAM staff all contributed to purchase a yearly pass at a local swimming pool. Our schedule has prevented us from fully enjoying its potential, but we've had a few opportunities to get relief from the heat (the 6am temp is usually around 85 degrees and electricity is usually off). One of the YWAM staff is a professional musician and has offered to help the kids with piano & guitar lessons. We're trying to re-arrange our budget to fit it in.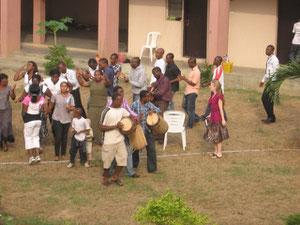 The YWAM work in Port Harcourt is keeping us very busy. There are currently 4 schools operating:  Discipleship Training School (DTS), School of Digital Film-making, School of Biblical Studies, & School of Worship). Eric's primary responsibility is with the DTS, but has also been occasionally teaching in the other schools too. The DTS has a significant number of students from some rough backgrounds (militants, gangs, etc.). Many are young Christians and are very eager to grow in their relationship with the Lord, pursue a lifestyle that brings peace to their society, and to shine the light Jesus around the World.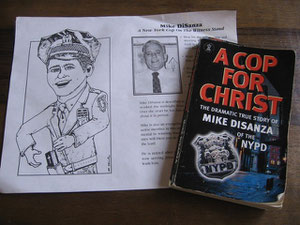 We are happy to invite our friends Mike DiSanza and his wife, Ann, to Nigeria. Mike is one of the founding members of Cops for Christ International. He was a "highly decorated" police officer in Harlem and the South Bronx for 20+ years while working the night shift and has many wonderful testimonies of God's forgiveness and faithfulness. He now spends most of his time traveling the globe as he evangelizes and disciples other police officers and prisoners.  He will be with us for about 2 weeks in the near future.
AND THANK YOU ALL SO VERY, VERY MUCH FOR ALL OF THE CHRISTMAS PACKAGES!!! THANK YOU!!! We didn't actually get any of them until after Christmas, but we enjoyed them all the same.  We received notification that one was sent back, but it didn't tell us who it was from.
We revived the monthly saturday morning campus cleanup at the YWAM Campus.
The whole campus spent 2 or 3 hours doing a detail cleaning on all the areas of the campus. Double-click on any picture to view the full-size slideshow.
Pictures of Naomi
Double-click on any picture to view the slideshow.