January 31, 2008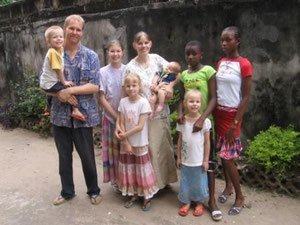 Since the relaxing holidays, the pace has quickened.  The classes at CBS have resumed now, so Eric is busy teaching and doing other random things.  In addition to that, he is also teaching a new computer class that is open to both CBS students and also the public.  It is just a general introduction to computers.  Many people in the class have never turned on a computer before.  On the first night, we had 38 people attend.  We are hoping to convert some of them into full-time Bible students too.
Eric has also been helping with YWAM in Port Harcourt to organize a major conference that is coming up in May.  It is the Call2All Conference that was initially established by Bill Bright.  There are 4 conferences this year in different geographic locations.  For Central, West, and Northern Africa they have chosen Port Harcourt as their location.  They are expecting 4000 people from all over the World to attend.  Last week, Eric went with the YWAM director to Abuja to meet with the President of the Christian Association of Nigeria (umbrella for all the Nigerian Churches-Catholic, Anglican, Baptist, Pentecostal, etc.) in order to inform them of the conference and ask for volunteers to help.
We are already looking forward to the SGT outreach coming up in July.  We now have a leader chosen for the team and have begun praying about the itinerary and making other necessary preparations.  We are adding more information to the page on our website as time progresses.
Here are the links to updated pages on our site:
Thank you all again for your encouragement and support,
The Blacks