May 2008 - Back from our trip to the USA
Dear Family and Friends,
We have now been back in Nigeria for one Month and are excited to see what God is doing in this nation.  At the school, we have been busy with our 3rd trimester, the computer class, preparing for our Inauguration, and getting ready for the short term team that is coming from NY in mid-July.
The short-term team is planning on having a diverse ministry including medical, children's ministry, Evangelism Explosion training, and other discipleship teachings.  After spending about a week in Aba, they will go to Northern Nigeria for a couple of days before departing.  They all have their airline tickets and are now raising support for food, accommodation, and local transportation.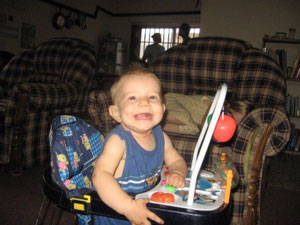 Since coming back to Nigeria, we have made some improvements to our apartment to make it more organized and comfortable.  Even though we have been in the apartment now for 8 months, we have pretty much been living out of our suitcases.  We added 6 bookshelves, some plastic dressers, a dining room table, a kitchen counter, and ceiling fans for 3 bedrooms.  We've also rearranged our budget to allow for more fuel for our generator.  Our electricity has been averaging only about 20 minutes per day, so we need to run the generator if we want lights, fans, fridge, or the washing machine.
The children have already commenced their next school year.  We decided to start very early this year in anticipation of coming back to the US in early spring of next year.  Next time, we plan on spending more time fundraising and visiting the friends and family that we weren't able to see this last time.The children are a little disappointed that they won't get a summer break, but look forward to visiting their friends next spring without having a load of schoolwork to worry about.
Additional Links
pictures from Spring trip to USA
More about the Short Term Trip to Nigeria, July 2008
Requested list of items sent with the short term team in July
Pictures of a cool spider that we found and killed in our apartment.