Merry Christmas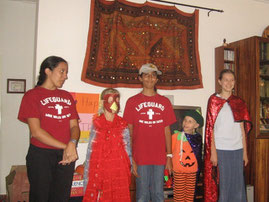 We have been back in Port Harcourt for a few weeks. We traveled to Abuja to renew some passports, and then to Jos to celebrate Thanksgiving with some other missionary families. After that we were originally planning a trip to Maiduguri to minister at a leprosy village, but that arrangement fell through. Instead, we went to Kano for a few days to explore the possibilities of starting a new YWAM campus there. Before returning to PH, we spent a week in Gboko at a leadership retreat.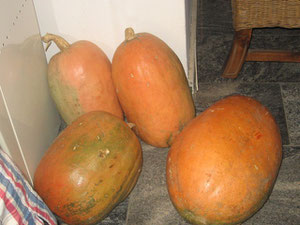 Cindy is merely days away from delivering the baby. We've created a cozy nest and made as many arrangements as possible. On Christmas night our family huddled around our laptop and watched the Nativity Story. About an hour after watching Mary deliver her baby, the kids went to bed and Eric drove Cindy to the hospital because she was having steady contractions about 10 minutes apart. By the time we arrived, the contractions were only 4 minutes apart. Immediately after checking in, the contractions stopped completely. We are still waiting. Her due date is Jan 6 and the ultrasound indicates it will be a girl.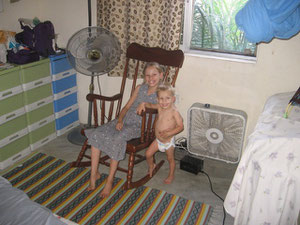 Do you see the nice rocking chair in the picture on the left? That is Cindy's Christmas present. It doesn't look too special, but it was an adventure to get it. Eric took a 1-hour flight, a 20 hour bus ride, slept on the road (literally), rode multiple taxis, and carried the chair on his head while riding on the back of a motorcycle. Thank you to all our friends in Abuja who provided the chair and accommodations for Eric during the trip! Cindy has wanted a rocking chair for a long time. Merry Christmas Cindy.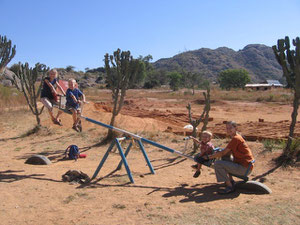 While the rest of the YWAM staff has been enjoying a holiday break, Eric has been making arrangements for the Discipleship Training School starting in January. We are now expecting about 50 students, mostly comprised of ex-militants. We've also been keeping the YWAM office in order with a reliable internet connection. We recently purchased a wireless 3G device (fairly new technology in Nigeria), multiplying our average internet throughput to 200-600 Kbits per second. Getting to the chase, we now have Skype capability, although it is a little choppy. We included our Skype address in your email.
Blessings to You All,
The Black Family
Christmas Pictures
(move your mouse over the image to see the caption. or click on any image to see it full-size)
Pictures of our accomodations at YWAM - Port Harcourt
(move your mouse over the image to see the caption. or click on any image to see it full-size)
Roadside pictures on the road from Jos to Kano in northern Nigeria.
(click on any image to see it full-size)
MIsc Pictures
(move your mouse over the image to see the caption. or click on any image to see it full-size)