Happy Thanksgiving!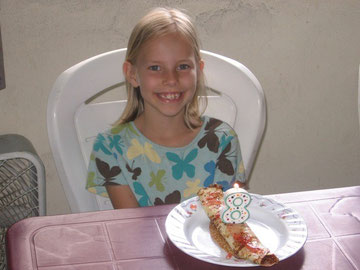 We're writing this update from Abuja, the capital city of Nigeria. It was time to renew passports for Elijah and Jillian, and we purposefully scheduled the renewal over Thanksgiving so we could spend a portion of our holidays with our missionary friends in Abuja. As an added bonus, we'll travel to Jos for a second Thanksgiving with 30 missionary families stationed in that region. After that, we have a possible ministry trip to Maiduguri (the center of the religious violence last summer). Then, we'll make our way back to Port Harcourt.
In January, we will be working with the new Discipleship Training School (DTS) at the YWAM campus in Port Harcourt. This particular DTS is for ex-militants that have been causing disruptions in the Niger Delta for many years now. About 60 of them have given verbal commitment to attend a DTS.
Background: The Nigerian government has offered amnesty to the militants if they come clean and relocate to one of the government camps. Thousands have handed over their guns. For the last few months YWAM and other organizations have been training the ex-militants with skills and character, attempting to re-integrate them back into society. This upcoming DTS is an incredible opportunity to disciple individuals and disciple nations at the same time! You can view a BBC news report here.
Since the Leadership Training Course ended a few weeks ago, Eric has been helping in the Digital Film-making School by teaching basic computer skills and a class on Biblical Creativity. Eric also helped the community by setting up a computer with a good internet connection. Many were happy about that.
God Bless and Happy Thanksgiving to all,
The Black Family