October 2009 - Move to Port Harcourt & the Leadership Training Course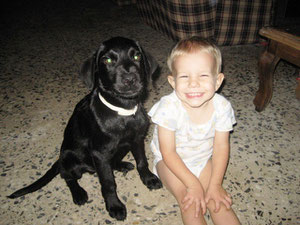 Wow, we've had quite a ride for the last month! It began with our frantic move from Aba to Port Harcourt. The road between the two cities is short, but notorious for armed robberies and kidnappings. We're thankful for God's protection. Eric transported several loads of stuff using our minivan in the days prior to our final move. Then we hired a moving van to carry the remaining things on the last day. In the process, Eric came down with a bad case of malaria, but luckily it didn't fully kick in until after everything was moved.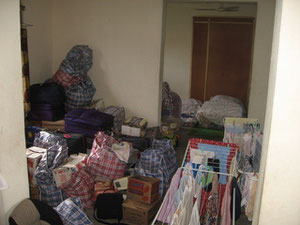 We didn't exactly know where we would be staying until we arrived on the day prior to the Leadership Training Course (LTC). The YWAM campus is expecting to relocate to a new site that was intended to be ready for the LTC, but it wasn't. So nearly 150 people unexpectedly gathered at the old YWAM compound, where we stayed 2 years ago when first moving to Nigeria. Our family fared pretty well, being allowed to occupy 3 full rooms. We shared the bathrooms with other staff & students. We utilized our portable gas stove to cook our own meals, but we had to fetch water from the community kitchen.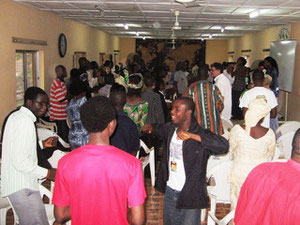 The LTC, led by Loren & Darlene Cunningham, was a time of great challenge and encouragement. It was 3 weeks packed with teachings on Biblical leadership with numerous real-life testimonies from the leaders. The emphasis was servant-style leadership, integrity, and holistic discipleship in 7 different spheres of influence in a society. The students were from YWAM campuses such as Mali, Niger, Cameroon, Uganda, Burkina Faso, Cambodia, Nigeria, and others.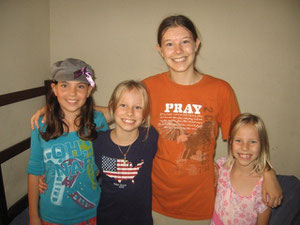 Currently, we are praying for the new YWAM campus to be completed as soon as possible. The land and construction are being donated by a local church, so it isn't something we can rush on this end. Meanwhile, we are patiently residing in our 3 rooms and trying to make it as comfortable as possible. During the last weeks, it has been so busy that we haven't been able to discuss with the leaders concerning our long-term role within YWAM Nigeria. But after a few days of community rest, we'll open that door and discuss our ideas.