A missionary baby is born in Port Harcourt, Nigeria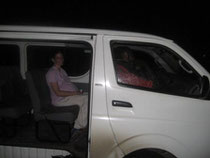 Cindy went into labor at about 9pm on Saturday, September 15th.  Since the previous children came so quickly, we didn't waste any time before leaving for the hospital.  We waited for a couple of hours just to make sure and then we woke up several people from the YWAM staff so we could get the missionary van ready to go.  At the front gate, we had to track down the security guards (and wake them up) so they could unlock the gate for us.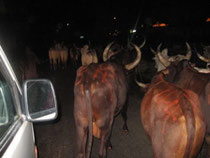 The road into the hospital was fairly quiet.  The only disturbance was when the police scolded our driver for being out past the 9pm curfew that was established in response to the recent gang violence that has plagued the Port Harcourt area.  Then they scolded the driver for transporting white people without a police escort.  When they realized that Cindy was pregnant and in labor, they apologized and let us go on our way.  The next diversion was a farmer who was waving his flashlight to direct us from hitting his cow as he was herding it down the main strip.  After this, we had a hold-up with a bunch of other cattle monopolizing the road.  Apparently, the 9pm curfew does not apply to livestock.  We finally arrived at the hospital at about 1am.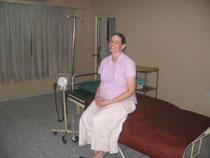 Here is the delivery room at the hospital.  After we got to the hospital, the labor started to subside and we worried that it was a false alarm.  By 6 am, things had not progressed too quickly, so they started giving Cindy some Oxytosin to help speed things up.  At this point we realized that Caleb was going to be a true African, operating on African time.  Every event occurs at least several hours after expect it should.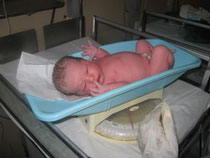 At 12:15, Caleb was born.  He was 4.2 kg (9 lbs, 4 oz) and 21 inches long.  Out of all our babies, he was the biggest and gave Cindy the longest labor.  But even though the labor was longer, it wasn't hard until the very end.  When we realized we were coming down the home stretch, it was only about 2 minutes before the delivery.  The doctor didn't even make it to the room until after the cord was cut.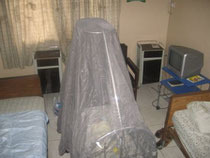 Here is the room we went to after the delivery.  We had hot water, AC, and a television with CNN.  Eric even got to see a few football highlights.  We covered the baby bed with a mosquito net to keep the mosquitoes out.  While the medical care and accommodation was nearly what you would get in the US, the whole thing only cost us about $500.