October 2008 Newsletter
Greetings to our friends and family around the world,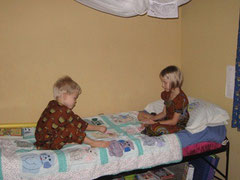 We praise God for His mercy and loving care.

 

Things are moving forward in Aba, Nigeria.

 

The Bible School is going well.

 

We are still struggling to recruit more students, but we rejoice for the faithful students we currently have.

 

We are working on a television advertisement and are also considering moving the school to a more conducive location once our rent expires.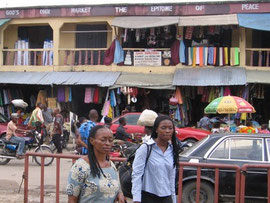 Last week, Eric attended a Clergy retreat in Gboko, Benue State (in the middle belt of Nigeria) and was able to network with many other pastors and missionaries.  He was encouraged by the lively spirit and good, solid, Biblical teachings.  It was a meeting with the top clergy representatives from most of the mainline denominations from Nigeria, Ghana, and Cameroon.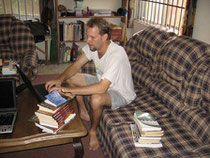 Our family is enjoying the presence of our new house helper who comes 3 times per week.  Her English is poor and she has almost no experience in modern cleaning.  We had to teach her how to use a broom, a can opener, and how to light the stove burners.  She didn't know what a mop is.  And we had to teach her how to clean windows, since she doesn't have any at her house.  But she is a fast learner and is very gentle with the children.  She has greatly alleviated the daily burdens for Cindy, the children, and me.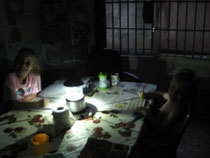 The rainy season is coming to an end and tangerines are now in season.  Today, Caleb said 'onyocha' which is the word for 'white man' in Igbo.  He also says NEPA (the acronym for the power company) when the electricity comes on.  We are thanking God for our electricity coverage, which has steadily increased to about 65% now.  It is a drastic improvement from the 3% coverage we were getting in May and June.  Please keep praying that the trend continues.