October 2010
While things are cooling off in the States, it is heating up in the Niger Delta. It will keep getting hotter until the rains come again next June. On the positive side, we found out that our compound will have 24 hour electricity for the next 4 years. A government program to rehabilitate ex-militants started last month and about 50 came to live on our compound. Part of the package is money to fuel the generators. It was a little rough at first. They tried to smash in our cars and they busted some windows at one of the buildings because they weren't satisfied with their accommodations and quality of food. But now they know we're missionaries and not the government officials in charge of their program. We're just friendly neighbors sharing the same compound. We've been using the opportunity to minister to them. I should also note that "24 electricity" means we can still frequently go 6 to 8 hours at a time without electricity.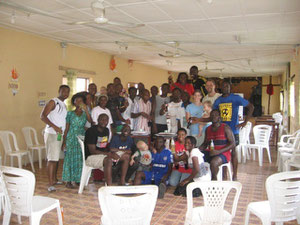 The DTS that Eric & Cindy are leading has completed their classroom phase and are having a 1 week break before going on outreach. After the break, half of the team will go to Maiduguri and possibly other cities in Northern Nigeria. The other half will have their outreach in Umuahia, Nigeria. The classroom phase went very smoothly considering it was our first time leading a DTS and all of the others who helped us were new YWAM staff having just graduated from their own DTS.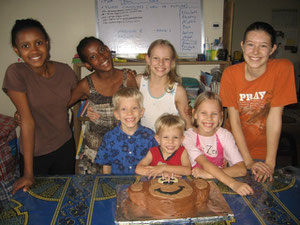 This year in Port Harcourt, we are running 4 DTS schools (Jan, April, July, & Oct). Each school is 6 months in duration with 3 months of classroom and 3 months of outreach. We staffed the classroom phase of the January and April schools and are currently leading the July school. Instead of staying back to start the classroom phase of the October school, we decided to participate in the outreach of the July school which we are currently leading. We're still working on the logistics of taking all 8 of us on the outreach.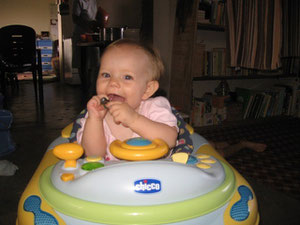 We just celebrated our 1 year anniversary of moving from Aba to Port Harcourt. It looks like the timing was divine. Since leaving Aba, it has now become one of the most dangerous places in Nigeria. This week, the government sent the military to restore order back to the city. Kidnappings and armed robberies have been steadily increasing over the last couple of years and it has now been declared a "state of emergency." Businesses are shutting down and citizens are rapidly relocating to nearby towns. Fortunately, our location in Port Harcourt is relatively peaceful.        >>> read more
Here is a youtube video that was posted by a YWAM outreach team from California. They came to stay at the YWAM-Port Harcourt campus for about 6 weeks. This video doesn't show any of our family, but it provides a taste of where we are and the people we work with. 
Here are some miscellaneous pictures. Click on any one to see the full-sized slideshow and read the captions.