Life in Port Harcourt, Nigeria (including some day trips we took to Aba)
This is a compilation of several emails we sent in August and September.  Some of the original pictures have been moved to our "Pictures and Videos" page under the "Life in Port Harcourt" sub-heading.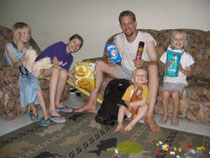 This is a picture of Eric in the living room of the guest house after he returned from Aba one day.  He almost always goes to the market in Aba to buy food and other items.  When he gets home, the children are excited to let him unpack the backpack to see what he brought.  At the guest house in Port Harcourt, it is difficult to do hardcore shopping.  We are at the edge of town and don't have any real stores within walking distance.  We have some stands close-by where we can buy bread, fruit, crackers, and peanuts.  In this picture, he brought home some powdered milk, corn flakes, spaghetti, oat meal, diapers, and bug spray.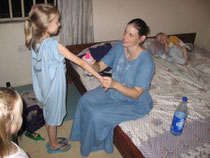 This is Eric & Cindy's bedroom at the guest house.  Every night before bed, we spray ourselves to prevent mosquito bites.  We all have mosquito nets packed away in our suitcases which are still in Aba waiting for us to find an apartment and unpack them.  We are looking forward to the day when we can freely unpack all of our stuff.  In the meantime, Eric digs through the suitcases to hand-pick necessities that he can easily carry back with him on public transportation.  
Eric & Hannah celebrated their birthdays.  Some of the staff from YWAM baked them a very yummy cake and joined us while we opened presents.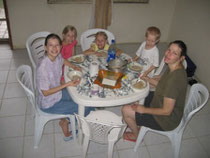 Here is a better picture of our dining room table at the guest house.  When we first got here, we spent most of our meals here.  But more recently, we usually eat 2 of our daily meals at the YWAM cafeteria with the students and staff as they enjoy rice, or potatoes, or fu fu corn, or garri, or some other Nigerian dish.  Our dinner is usually by candlelight since the electricity is rarely on during that time.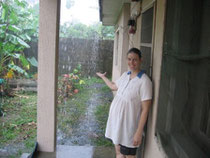 This is a common sight for this part of Nigeria during the rainy season.  This area usually gets between 80 to 100 inches of rain within about 5 months.  This is the front porch of our guest house.
When we get off the bus in Port Harcourt, there are stands on the side of the road where some Hausas (Tribe from Northern Nigeria which is predominantly Muslim) are selling mangos, watermelons, oranges and lots of yams.  Eric is looking for the best mangos and preparing to bargain for a decent price.  A useful trick in getting the best price is to send somebody who speaks the language of the seller to do the buying.  They usually give better prices to those who speak their own language.  This is generally true of the 3 major tribes in Nigeria (Hausa, Yoruba, and Igbo).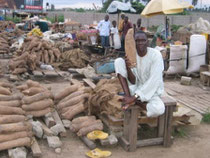 Here is a better picture of somebody selling his yams.  The yam that he is holding will sell for somewhere between 50 cents to $1.50.  With a striking similarity to Potatoes, yams can be boiled, roasted over the fire (Eric's favorite), fried, or pounded.  They are commonly covered with a peppery, oily stew.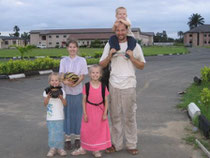 After walking for about 20 minutes from the main road, we enter the YWAM compound.  As you can see, it is a large compound with a football field and many large buildings.  There is another organization that shares the compound with YWAM.  The land was donated by the Governor of Rivers State.  There is an 8 foot cinderblock wall that surrounds the entire compound.  It also has electric barbed wire on top.  There are security guards at the gate 24 hours a day and 4 armed security guards who patrol the grounds at night.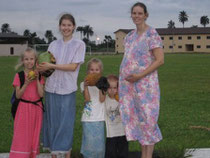 Here is another angle just inside the gate of the compound.  Above Emily's head, you can see the flame in the distance where one of the oil companies is burning off the natural gas.  This is a common practice in order to get to the more coveted oil underneath.  But it causes a great deal of pollution in the process.  People have been trying for years to enforce laws that prevent the oil companies from doing this.  In this part of Nigeria, you can see many of these "candles" that constantly remind the people of the conflicts brought on by the discovery of the rich oil fields in Nigeria.  It also reminds them that someone is getting rich, while most of them earn only a couple dollars per day.  You can also see in the photo that Jillian and Elijah are carrying the mangos, Emily has the pineapple, and Hannah and Cindy are holding watermelons.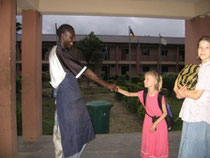 Jillian is shaking hands with Thomas, one of the YWAM DTS students.  Behind them is the courtyard of the main YWAM building that houses most of the staff and students, where they hold their classes, and where they eat.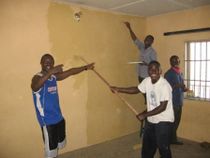 One day, we took the YWAM bus with the DTS students to Aba to spend a work day at our new apartment.  They helped us clean and paint.  In return, we made them all lunch and helped them with the fees they were raising to go on their school outreach to Calabar and Owerri.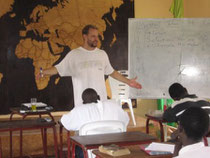 Eric taught for a week in the Discipleship Training School at YWAM.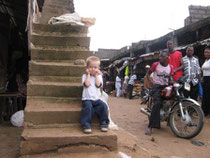 Here is Elijah at the Ariaria Market in Aba.  Some say it is the largest market in Africa.  I don't know if it is actually true.  But it is very large and gives the city a different atmosphere than the rest of Southeastern Nigeria.  Being a center of commerce, people from surrounding cities say the people in Aba are "rowdy."  Do a Google or Wikipedia search on the Bakassi Boys to learn about a vigilante group that has been used in the past (and non-officially still today) to keep the peace in Aba.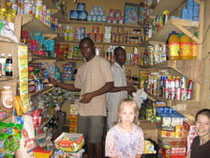 This is my favorite shop in the Ariaria Market.  The owner gives very fair prices on peanut butter, jam, laughing cow cheese, corned beef, Pringles, and many other items that are imported from abroad and are hard to find at a good price.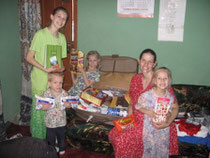 When Eric went to Cameroon, he met Pastor Rich (Missions Pastor from Smithtown Gospel Tabernacle on Long Island), who brought with him several cases of stuff from the USA.  Here we are unpacking one of the suitcases of stuff that was donated to us from family and friends.  We are holding marshmallows, stickers, brownie mix, and Reese's Peanut Butter Cups.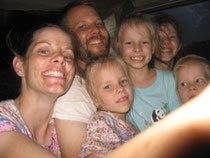 This is how we travel between Aba and Port Harcourt.  We pay about 2 or 3 dollars for a seat on a bus (more like a mini-van), one way.  We always put Jillian, Emily, and Elijah on the laps of Eric, Cindy, and Hannah.  We could probably afford to just buy more seats, but we are trying to integrate into the culture and travel the way the Nigerians do.  Our legs are usually asleep by the end of the hour, but for some reason, we look back on the experience fondly.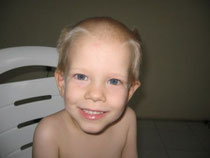 One day, Cindy tried to take advantage of the working electricity to buzz Elijah's hair.  As we should have predicted, the lights went out before she could finish the job.  Elijah had to wait until the next day before the electricity came back on for Cindy to shave the rest of his hair.  Someday, he might not appreciate this picture.  But for now, he didn't really mind.  It probably helped that we don't have a mirror at the guest house to show him how funny he looked.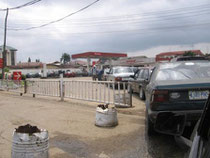 Here is a common sight in Southeast Nigeria.  We waited for about 1 hour at the gas pump to fill up the car we were riding in.  While Nigeria is one of the top-ten oil exporters in the World, they oftentimes have oil shortages due to the poor management of their refineries.  This line was actually short compared to some of the lines we have seen.  Sometimes people will wait for 3 hours to fill up their tanks.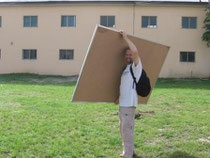 One day, we bought a white-board in Port Harcourt for the Bible School in Aba.  Eric carried it a quarter mile to the side road.  Then he carried it over his head as he rode on the back of a motorcycle to the main road.  Then he paid a minivan-driver about $15 to drive him to Aba.  After getting out of the van, he carried it for another half mile to the school.  This is all just part of the African experience.